Businesses Executives' tips to expand international business opportunities
In October, ICTI Ethical Toy Program (IETP) co-hosted a seminar with China Toy and Juvenile Products Associations (CTJPA) during the China International Toy Expo in Shanghai, marking the fifth toy, juvenile or educational products fair that IETP has partnered within Asia this year.
Over 60 guests joined the seminar – "Exploring International Business Opportunities" – which gathered together key toy industry stakeholders including industry association presidents, representatives brands and retailers, as well as senior factory management for multi-stakeholder dialogue.
The event kicked off with opening remarks from the President of CTJPA, May Liang, who highlighted the importance of industry-wide collaboration and the positive impacts IETP has brought to the industry. IETP President & CEO Carmel Giblin explained how the program is dedicated to supporting the toy industry globally, and shared IETP's plans to cover more countries and additional product categories, and as a result, support our buyer and factory members to capitalize on international business opportunities.    
Other highlights from the seminar included three panel discussions featuring guest speakers from Mattel, LEGO, and four leading IETP Certified manufacturers.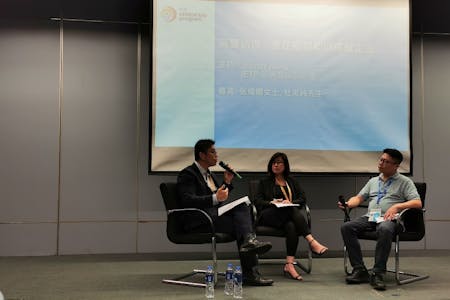 From the left: Johnny Kong, Emily Cheung, Yau-Chun Du
Johnny Kong, General Manager of IETP Asia Operations, Yau-Chun Du from Shantou Chenghai Xinan Qingyi Toys Factory and Emily Cheung from Shen Zhen Tsuen Lee Fung Metal & Plastic Product Company Limited explained the value they see from participating in the program - these two factories have been in the Ethical Toy Program for over 5 years. "Complying with IETP standards has empowered our workforce and built a good reputation for our company. Furthermore, these standards laid a strong foundation for our operations, enabling us to meet ISO9000, China Compulsory Certificate, and audits from other brands effortlessly," shared Cheung.
The panelists also discussed the changes they have seen in the business environment and social compliance standards in recent years. To remain competitive in challenging times, panelists highlighted opportunities for businesses to be innovative and take the opportunity to evolve in response to these changes.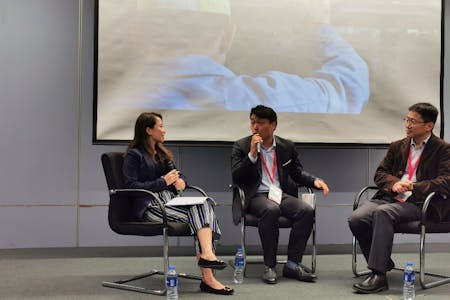 From the left: Sarah Ng, Byron Fei and Jian-Hua Zhou
Following this session, two award-winning printing companies joined Sarah Ng, Communications Manager of IETP on the panel "Going Beyond Compliance". Jian-Hua Zhou from C & C Joint Printing Co., (Shanghai) Ltd. shared how he had found the recent Progress Visit (PV) they received from IETP to be an extremely valuable experience, praising the move from a pass/fail assessment to tailored root cause analysis for helping them to manage risks in their business. Byron Fei from Shanghai Foreign Trade Jielong Colour Printing Co., Ltd. explained how their business values tie in with IETP's work to advance worker well-being including our Family-Friendly Spaces program, and the sustainable business benefits they see from running these types of additional programs to improve employee well-being.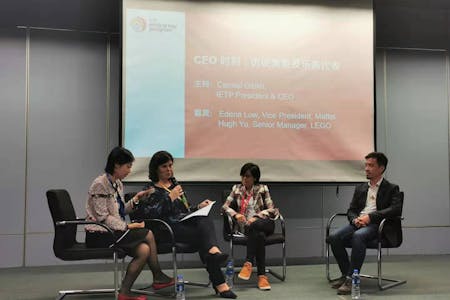 From the left: April Yu (translator), Carmel Giblin, Edena Low, and Hugh Yu
The last panel of the day was highly anticipated. This panel was chaired by Carmel Giblin, IETP President & CEO, who was joined by senior executives from two of the world's largest toy companies – Edena Low from Mattel and Hugh Yu from LEGO. Giblin invited Low and Yu to share their advice to help factories navigate disruptive business challenges such as changes in retailers' requirements, or threats of trade tariffs; as well as what suppliers can do to differentiate themselves and bring more value to clients such as Mattel and LEGO.
Both Low and Yu emphasized how it's important that the business partner suppliers share the same values and commitments to responsible business. Low stressed to the audience that sustainability is not only about addressing environmental issues, it also encompasses issues of trust, cost, and quality which are also necessary to support business success in the long term.
Feedback from attendees was positive, with delegates sharing that they found the seminar to be valuable and thought-provoking, the panel discussions outlined important messages and learnings they can take back to their businesses, as well as providing a useful opportunity to meet with many stakeholders in the toy and juvenile products supply chain.
Sign up to IETP's newsletter and follow our WeChat (ICTI_EthicalToy) to receive invitations to future events.