ICTI Ethical Toy Program Worker Helpline – new number & extended operating hours
The Ethical Toy Program Worker Helpline has offered free, confidential information and advice to thousands of factory workers since its launch in 2010. The Helpline supports the welfare of toy factory workers, and is dedicated to helping workers maintain a good state of mind to help them face their work and personal matters positively, whilst also promoting harmonious working environments at factories.

We are now introducing enhancements to the Worker Helpline:
A new Helpline number: 4001-583580. This number is free to call within China.
Extending the service hours. Previously 11am–9pm, now 9am-9pm every day except the 7 days holiday announced by the State Council of the People's Republic of China for Chinese New Year.
The Ethical Toy Program will be distributing Worker Helpline Cards and Posters to factories to help you communicate these changes to your workforce, if you would like them sooner please email us with your request.
As a reminder, the Ethical Toy Program Worker Helpline offers:
Information to help workers understand their rights and responsibilities relating to issues such as working hours, wages, labor contracts, dismissal and resignation processes etc.
Personal support with relationships, homesickness, health and hygiene issues, or help with family relationships
Reporting concerns on any abuse or hazards at work, including unsafe working conditions, harassment or bullying, underage workers etc.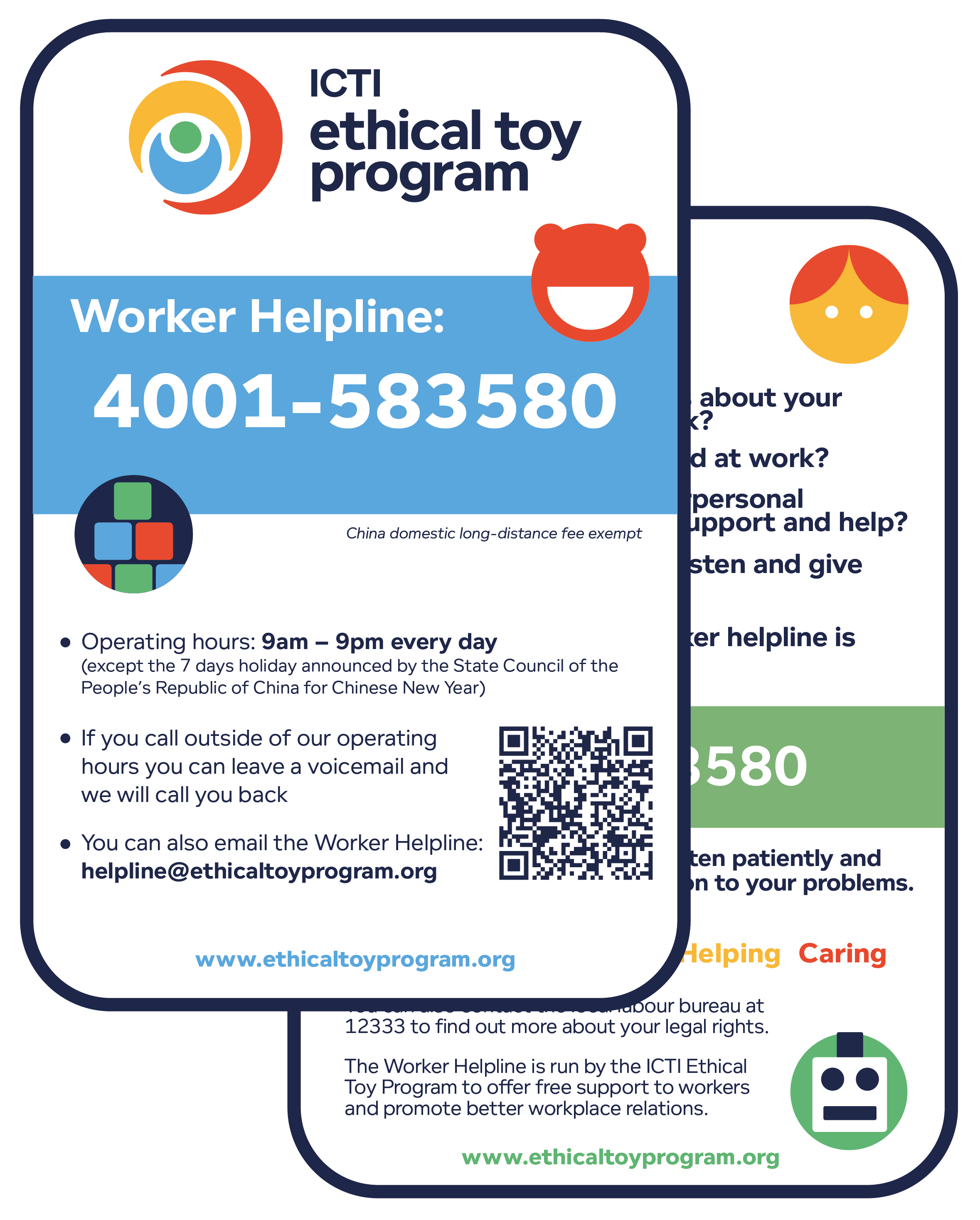 Factory management value the Ethical Toy Program Worker Helpline as a useful communication bridge and an effective worker – management-labor dispute mechanism. The Helpline allows managers to assess situations in real-time and uncover potential abuses, hazards or other issues that they may have been unaware of, but need to address urgently. 
Buyers also value the Helpline as it allows workers to convey any personal or work-related concerns outside of formal factory audits.
Should you have any questions about the Worker Helpline, or would like to order copies of the new Cards and Posters, please email us at info@ethicaltoyprogram.org