ICTI Ethical Toy Program launches new online Auditor Assessment Function on Connect Platform
The Ethical Toy Program launches new online Auditor Assessment Function enabling factories to evaluate auditor performance
What is the Auditor Assessment function?
The Ethical Toy Program is adding a new Auditor Assessment Functionality to the Connect Platform. This new, online feedback tool enables toy factories to evaluate, and feedback on, the performance of on-site auditors.
This functionality offers factories a clear channel to anonymously assess auditor's behavior, share feedback, and report any concerns they may have. All feedback is shared anonymously and the identity of the factory is protected. This direct feedback from factories will help us ensure that all audits by Ethical Toy Program accredited audit firms are of a consistently high quality. The auditor assessment functionality will also act as a deterrent against unprofessional auditor conduct.
The Ethical Toy Program expects accredited third party audit firms and their auditors to act with the upmost professionalism at all times. Factories have a unique view of the performance and conduct of auditors during audits. The Ethical Toy Program has always valued the feedback from factories' regarding auditor conduct, and this new auditor assessment functionality channel will allow factories to share feedback or raise concerns with us directly. This extra layer of transparency will enable the Ethical Toy Program, factories, and audit companies to work together to monitor auditor's performance and address any issues found.

When will the Auditor Assessment function be available?
The easy-to-use online function will be launched on the 25th of March 2017 and factories will be able to access it through the Connect Platform. Once launched, this function will become an obligatory step for factories to complete in order to access audit reports. Factories will need to evaluate the behavior, competency, and integrity of the onsite auditors before they can download the audit reports. This will apply to all audit reports completed after the 20th of March 2017. Reports for any audits completed before this date will be available to download without completion of an Auditor Assessment.
In order to provide the most accurate assessment of auditors and therefore contribute to ensuring a consistently high standard of auditor behavior and integrity, factories are advised to complete the assessment as soon as possible after the completion of the onsite audit.

How to use the Auditor Assessment function?
When factories log into the Connect Platform, if there are pending assessments they need to complete they will see a notification figure in red on the Auditor Assessment tab. This figure indicates the number of assessments that need to be completed. (see figure below)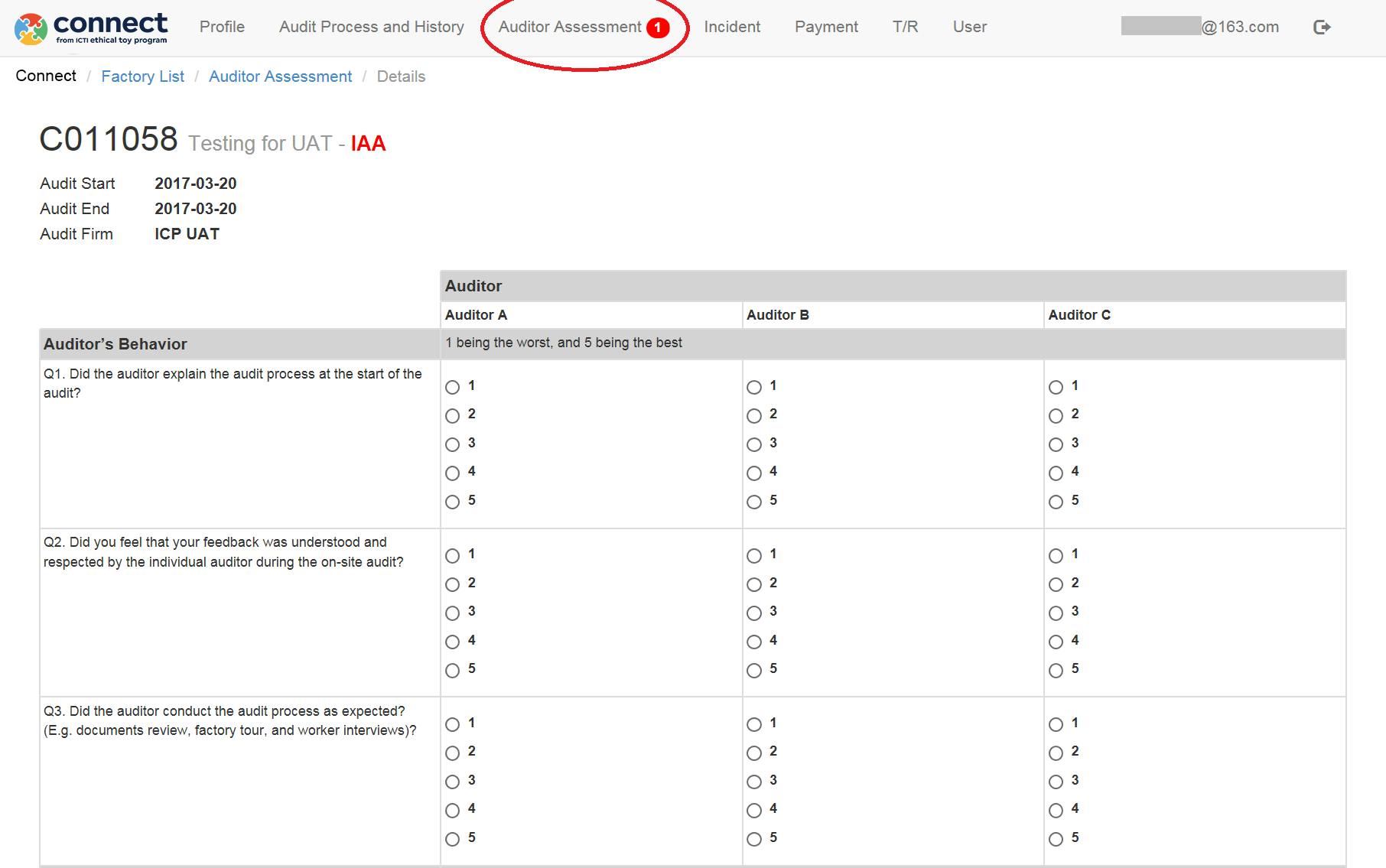 Completing the assessment is very straight forward and takes no longer than 2 minutes. Factories are able to rate the performance of the on-site auditor with a numeric score from 1 (the lowest) to 5 (the highest). (see figure below)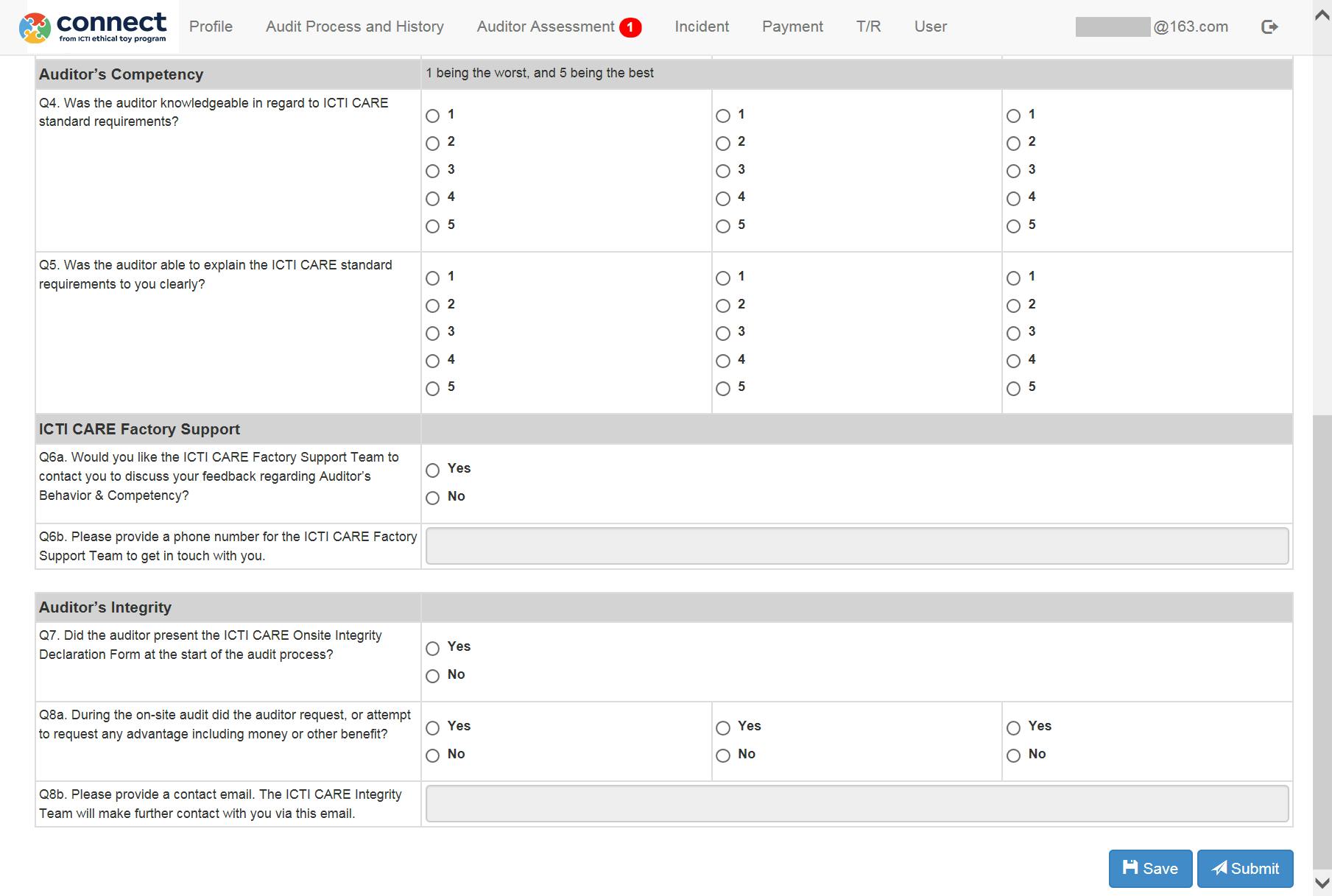 Is the Auditor Assessment confidential?
All information provided through the Auditor Assessment will remain strictly confidential. It is imperative that Auditor Assessment scores remain anonymous and confidential, this ensures that the system provides a secure, fair, and transparent mechanism for factories to share their feedback.

How will ICTI CARE follow up on feedback provided by factories?
When a factory requests the Ethical Toy Program follow up with their concerns via the Auditor Assessment function, a member of our team will contact them directly within two working days to discuss their feedback further.
Audit quality and integrity are core components of the Ethical Toy Program. To ensure all audits are of the highest standard, the Ethical Toy Program conducts quarterly KPI reviews of all Ethical Toy Program accredited audit firms to monitor their performance. This new anonymous feedback from factories will be included in the KPI reviews in order to provide a complete picture of audit firm performance. If any audit firm or auditor fails to meet the standard expected, they will be penalized or even removed from the program.
For instructions on how to use the Connect Platform and new Auditor Assessment function, please consult the User Manual. If you have any questions, do not hesitate to contact the Ethical Toy Program Factory Helpdesk at info@ethicaltoyprogram.org or (+852) 2111 2462.