IETP to kick start 2021 Family-Friendly Programs
Approximately 20 factories in the toys and children's product industry are getting ready for an exciting summer, they are about to welcome around 800 children of migrant workers during the school holidays.
This year, marks the 6th year since the launch of the Family-Friendly Spaces (FFS) program. This program is a social initiative that has been tailor-made for the manufacturing industry with the goal of providing child care services to left-behind children and the children of migrant workers, as well as to strengthen the parent-child bond for migrant workers during the summer holidays.
When migrant parents leave their hometown to look for work, the summer holidays are the time their children are most vulnerable to being left unsupervised. This can result in a distracted workforce with migrant parents concerned over the safety of their children. Our Family-Friendly Spaces (FFS) reunite these families by providing a safe environment for children to: play, access learning opportunities, develop social skills, and spend valuable time together with their parents. In the past five years, Family-Friendly Spaces have been created in 37 factories, benefitting 3,145 workers and 3,000 children.
We are delighted to announce that in 2021, around 20 factories, new and repeating, will join the FFS program; this is a welcome return to our participation levels before the COVID-19 pandemic. In the coming months, we have scheduled information sessions, on-site pre-assessment, and factory staff training to ensure staff and facilities are ready to welcome the children. Sign up for our newsletter to get the latest update of the FFS program.
Sponsorship opportunities are available for companies who would like to make a lasting impact on the lives of migrant parent workers and their children in the supply chain, contact us for more information.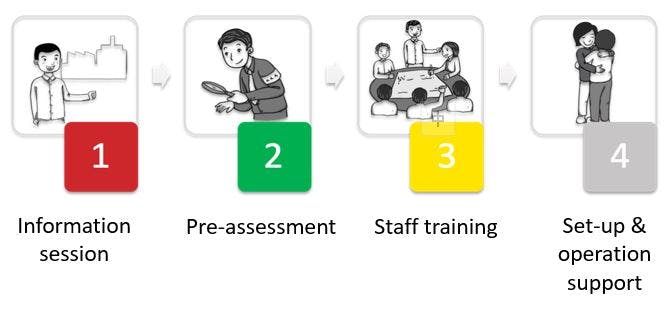 Developing a Family-Friendly Curriculum for the Global Manufacturing Industry
Building on the successes of our existing worker well-being programs, IETP is gathering lessons learned from Family-Friendly Spaces (FFS) and Migrant Parent Training (MPT) to develop a Family-Friendly Factories Curriculum. The project aims to leverage the successes of our existing programs and Positive Parenting content to create a comprehensive curriculum of modules which can be easily adopted by other companies and industries and empower them to make influential social impacts and lasting changes within global supply chains.
In addition to supporting workers fulfill their parental responsibilities, we expect the curriculum work to promote corporate culture, increase loyalty, reduce employee turnover rate, and improve workers' productivity and performance. Taking these mutually beneficial initiatives to new countries and industries.
IETP is currently implementing strategies to gather the necessary information for the Family-Friendly Factories Curriculum, sign up to our newsletter to stay informed on its development.