IETP partners with Reuters for Sustainability Reporting Europe 2023 in London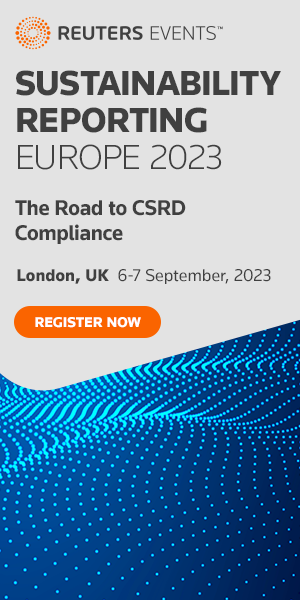 6-7 September, London

Join Sustainability Reporting Europe 2023 in London on the 6-7 September, a part of IMPACT Congress London, to through balance growth with sustainability. We will help you understand how to utilise systems and processes to provide consistent, comparable, and reliable data in an automated fashion, explore how sustainability can work closer and more effectively together with finance, risk, and legal teams, and how businesses can meet regulatory requirements while not losing sight of the 'why' we report.
Meet 300+ sustainability, finance, and policy leaders to build the networks, collaborations, and learnings that will set you on the path to CSRD compliance.
Defining Themes for 2023:
The Road to CSRD Compliance: Engage with policy makers and standard setters who are shaping the future of the regulatory and standard space and prepare your business to be CSRD compliant.
Automated, Transparent Sustainability Data Networks: Discover industry shaping solutions and systems that you can implement to upskill your sustainability reporting to be fit for regulation and meet stakeholder demands.
Internal Integration – Finance, Risk, and Legal: Hear from leading financial, risk, and legal executives about how they are working with sustainability to shape the way their functions collaborate and how companies report.
Impact Reporting – The Why: Empower your business to effectively deal with the burden of reporting while not losing sight of the 'why' and create real impactful change to lead your business towards the sustainable transformation.