Johnny Kong Promoted to COO of IETP, new General Manager Appointed
The specialist responsible sourcing program, ICTI Ethical Toy Program (IETP) is pleased to announce several promotions within the organization. These promotions reflect their significant contributions to the organization.
Johnny Kong, who joined the organization as General Manager of Asia Operations in 2017, has been promoted to Chief Operating Officer (COO), he will leverage his experiences to ensure the success of IETP's global operations.
Anita Lo, who was the Program Director of IETP, is appointed to succeed in the position of General Manager of Asia Operations. In 2019, Anita began managing the development of IETP's flagship worker wellbeing program and advancing factory management capacity-building programs. She will now oversee all operations in Asia.
Several function heads were also promoted to Senior Manager, reflecting their positions and elevated responsibilities:
Aine McCarthy, Social Impact Program
April Yu, Program Monitoring & Development
Sarah Ng, Marketing & Communications
Philip Liu, Program Support & Engagement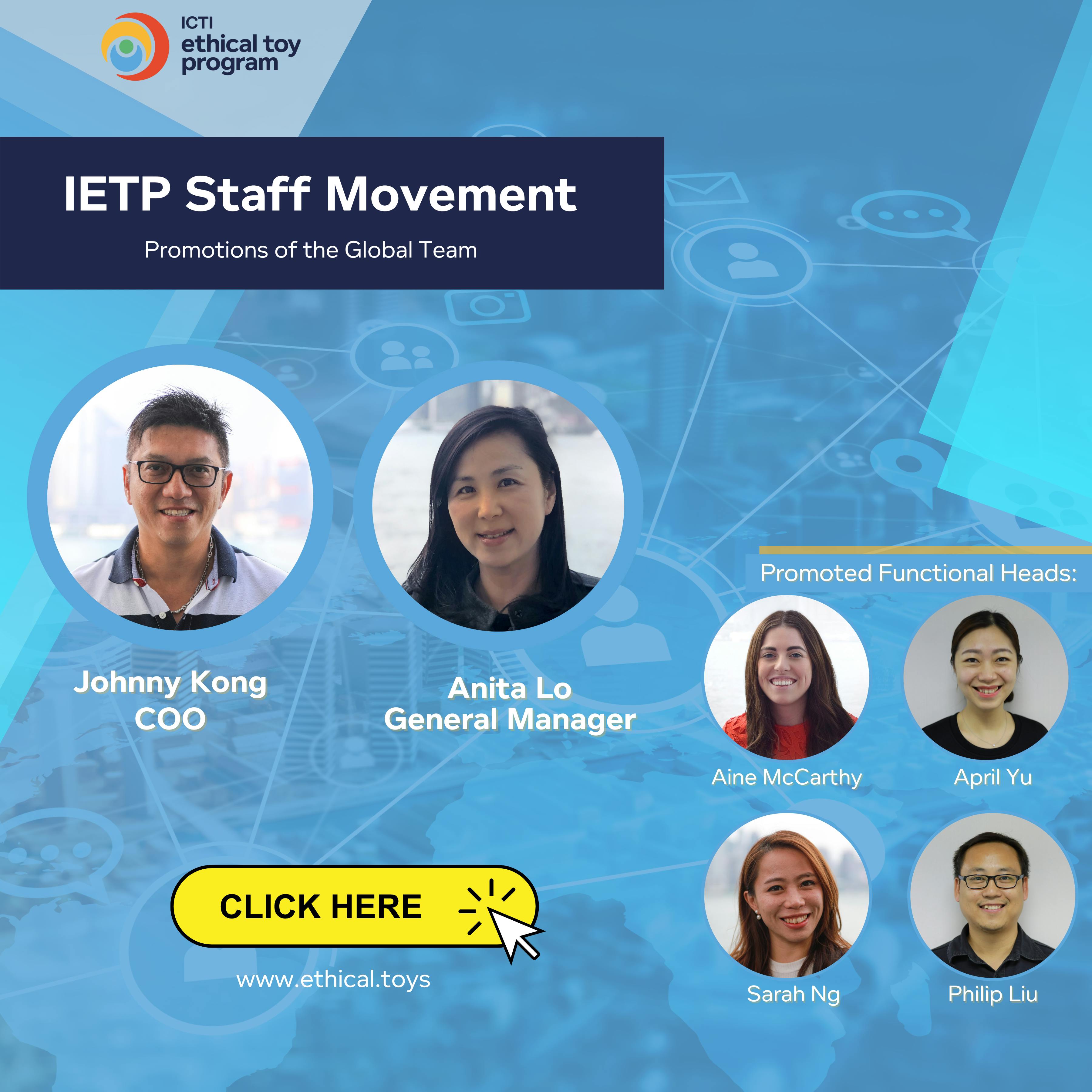 IETP is known for its robust social assessment & compliance certification program, a wide range of capability-building programs, and scalable worker wellbeing initiatives. We support businesses to measure and achieve their ESG objectives, mitigate labor risks and maintain a safe and ethical workplace for workers.  
"We continue to invest in our programs and our team members to ensure we are the best choice partner for companies who are serious about sourcing responsibly and sustainably. Our greatest asset is our team and these promotions reflect the quality and commitment of our staff to delighting our members every day." Carmel Giblin, President & CEO.
Over 1,500 brands, retailers, licensors, as well as 1,000+ manufacturing businesses globally have joined our community of responsible businesses. Creating synergies to advance supply chain sustainability. To find out more about IETP, visit www.ethical.toys