IETP to Speak at ReThink Hong Kong 2022 this October
IETP's General Manager of Asia Operations, Ms. Anita Lo, will join Michelle Wei - Vice President & Deputy General Counsel, Felx, and Ms. Archana Kotecga - CEO & Founder, The Remedy Project at ReThink Hong Kong on 5th October (17:15-18:00) for a panel discussion to share thoughts on Socal Accountability: Human Impact on Supply Chains.
About the Panel
Companies are under increasing pressure to address the "S" of ESG in their supply chains, and to protect the rights, safety and wellbeing of individuals along all phases of operations. Hear from leaders in this space on how companies can implement socially responsible supply chain practices driven by value-led decision-making, secure a social license to operate, and protect the long-term viability of their businesses.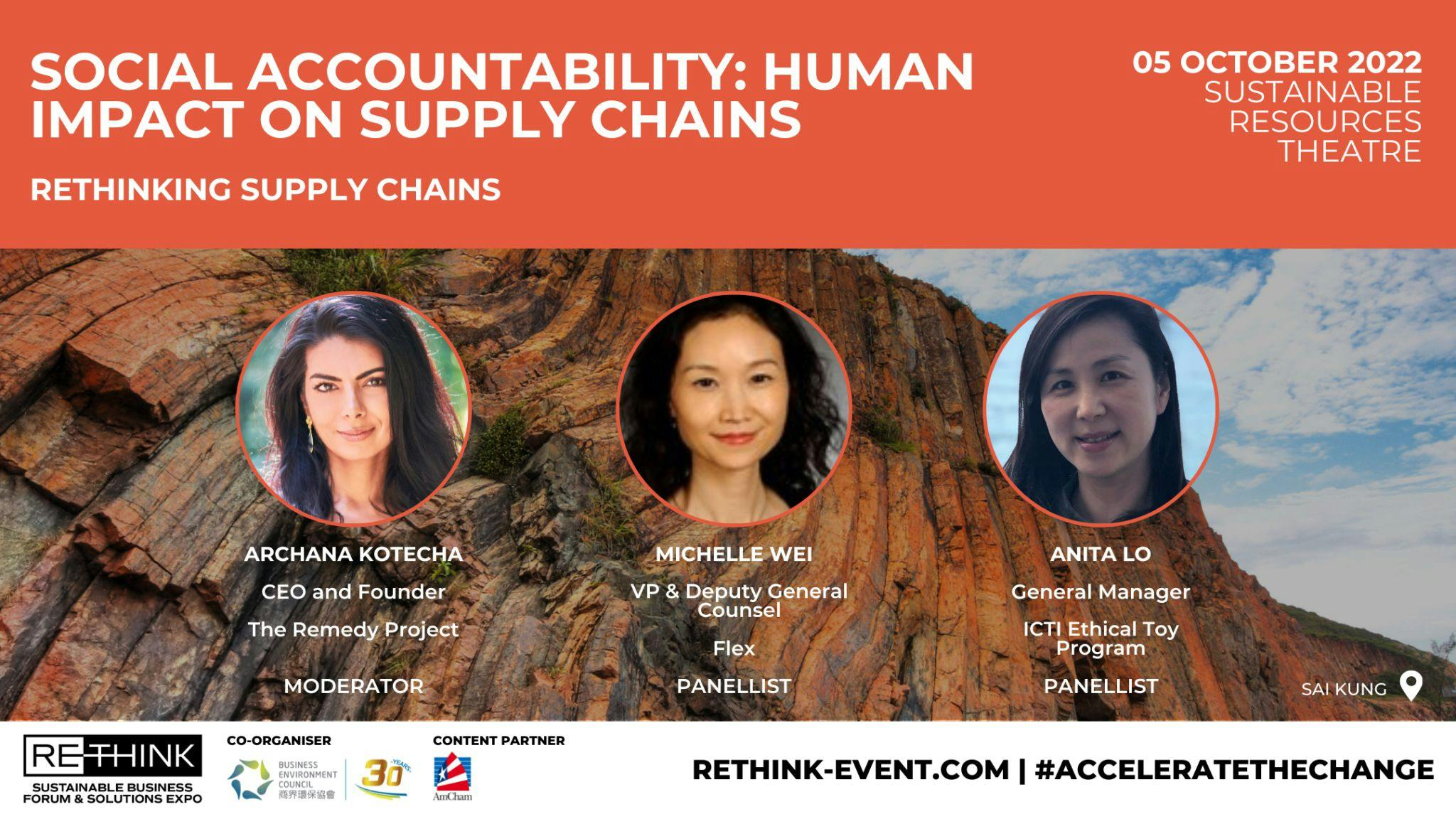 Learnings
How can we better understand, measure and assess the social performance of our supply chains?
What opportunities and barriers exist to address pertinent risks and impacts?
What tools and techniques are available for facilitating sourcing from ethical suppliers as well as social compliance and transparency into practices of actors in the supply chain? Perspectives on labour rights, women in supply chains and more.
Post-Event Actions
Gain insights on why and how businesses are embracing socially responsible supply chains.
Rethink your industry's state of play, and consider how internal and external stakeholders can work together to improve social responsibilities in global supply chains.
Businesses are stepping up to scrutinize suppliers' sustainability responsibilities, alongside the development of technology for more credible and timely data collection. It has become imperative for companies to respond to changing stakeholder demands, and innovate to address systemic risks, reduce waste, enhance transparency and improve resilience across entire value chains.
Rethinking Supply Chains will share leading practices in the integration of sustainability into supply chains and procurement processes, expectations for enhanced traceability and control, supplier financing, and tools and quality data for setting and achieving science-based targets.