New York Toy Fair Seminar - Responsible Toy Sourcing: Maximising Global Opportunities
Join our upcoming educational seminar Responsible Toy Sourcing Seminar: maximizing global opportunities at Toy Fair 2020 in New York.
Leaders in sustainability and responsible toy manufacturing will explore global opportunities to manage risks, protect brand reputation and enhance your toy supply chain. 
 The seminar will explore current trends, and emerging risks and regulations affecting toy manufacturing, as well as presenting opportunities to diversify toy supply chains beyond China in 2020. 

Learn from toy industry experts 
Whether you are an established player in the market or a promising start-up, this educational seminar offers a unique opportunity to learn from global experts on responsible toy sourcing.  
Seminar speakers include leaders from the Ethical Toy Program, representatives from the Southeast Asian Toy Association (SEATA) along with leading toy brands and retailers.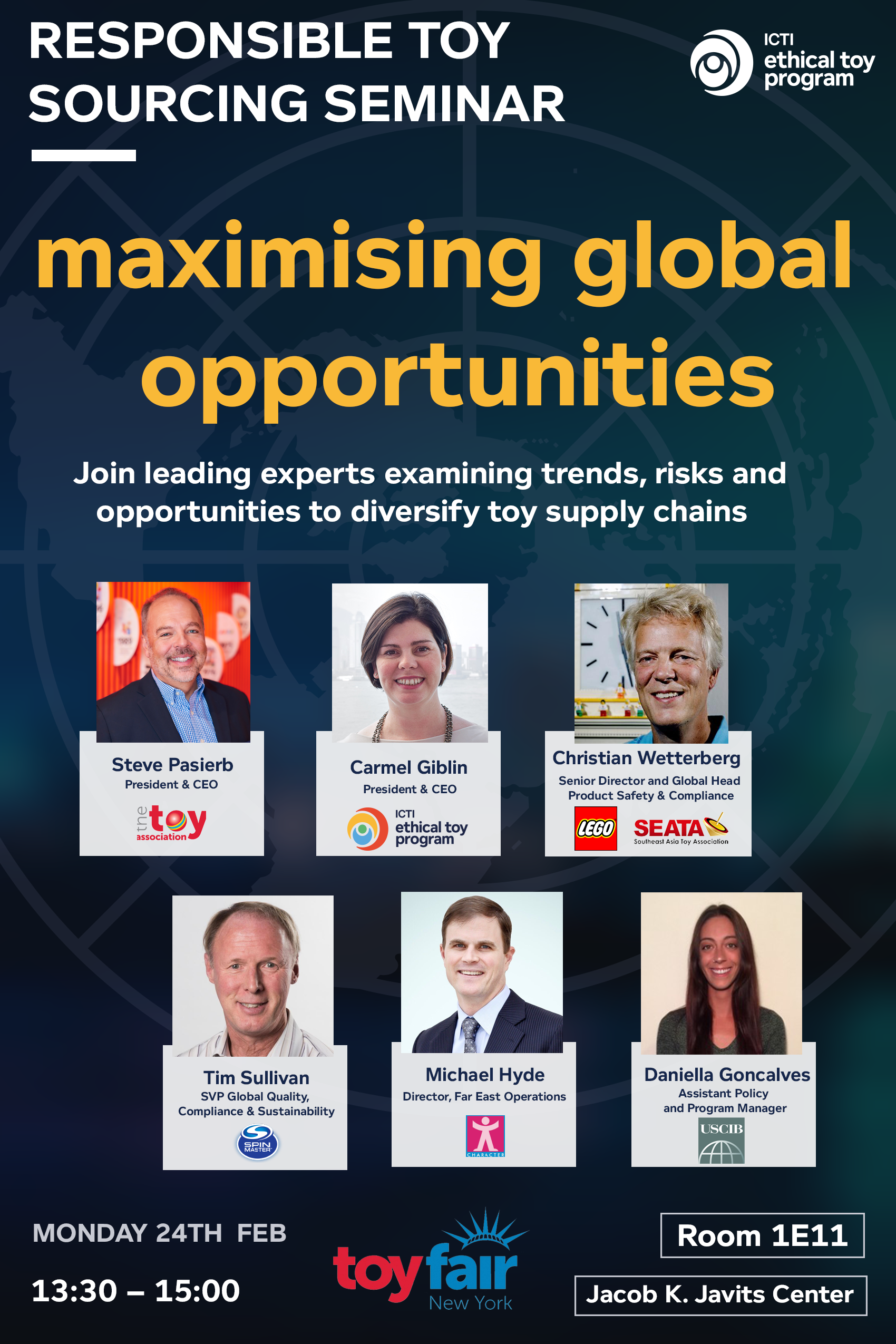 Seminar topics will cover:
Responsible manufacturing opportunities outside of China, with a focus on Vietnam, Indonesia and Malaysia 
How to conform to emerging legislation impacting the global toy industry, such as Modern Slavery legislation or Germany's draft Sustainable Value Chain Law
Latest updates and responsible sourcing trends all toy companies need to be aware of
Speakers:
Steve Pasierb, President & Chief Executive at The Toy Association 
Carmel Giblin, President and CEO at ICTI Ethical Toy Program
Tim Sullivan, SVP Global Quality/Compliance at Spin Master
Michael Hyde, Managing Director - Far East Operations, The Character Group
Daniella Goncalves, Assistant Policy and Program Manager, CSR and Labor Affairs at USCIB-United States Council for International Business
Christian Wetterberg, Senior Director and Global Head Product Safety & Compliance at LEGO and SEATA
Attendees will then get the opportunity to post questions to the panel in a 15-minute Q&A. 
Don't miss out, register today and secure your place at this responsible sourcing seminar at New York Toy Fair 2020.

When & where
February 24, 2020, from 1:30PM to 3:00 PM
New York Toy Fair - Room 1E11
Jacob K. Javits Center, 429 11th Ave, New York, NY 10001