ICTI Ethical Toy Program Offers Tips to Measure Environmental Sustainability in Supply Chains | Featured: The Toy Association
*This article was originally published by The Toy Association, click here to read the original article.
In honor of #EarthDay 2022, the ICTI Ethical Toy Program is sharing our chat with The Toy Association on how toymakers can make simple adjustments to improve environmental sustainability in their global supply chain.
ICTI Ethical Toy Program (IETP) has worked closely with the global toy industry to ensure that toys are manufactured responsibly and ethically and protect the rights and well-being of millions of toy factory workers. Toy News Tuesday (TNT) editors chatted with Carmel Giblin, President & CEO of IETP on how to connect supply chain operations to climate actions.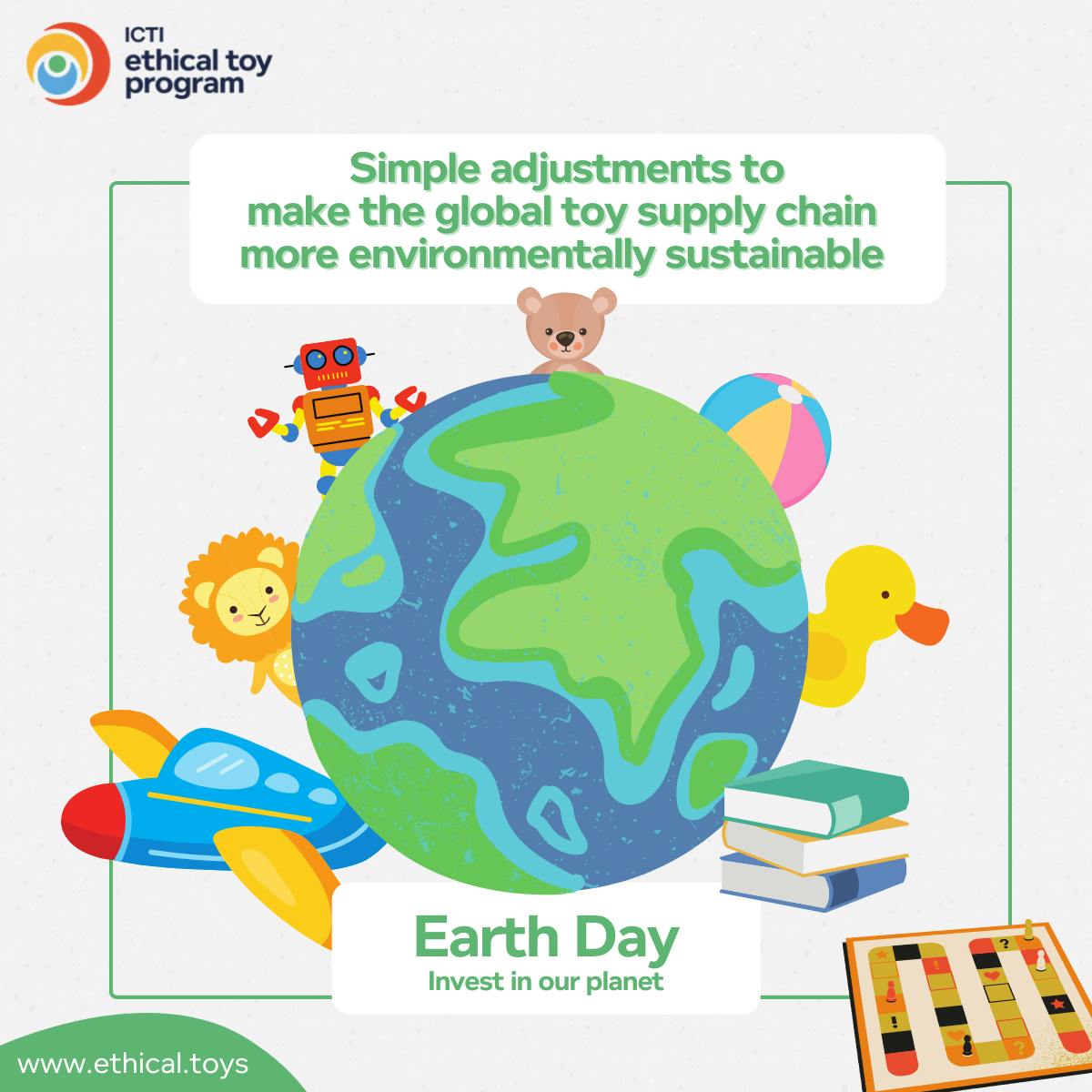 TNT: When companies are looking at their supply chain's sustainability performance, what are some of the questions they should consider?
IETP: Some of the key questions we often ask are: what is your level of visibility over your global supply chain? And how does your business impact people, planet, and profit?
For example, you might think about CO2 emission and climate change right away when thinking about environmental sustainability, but do you know how to connect these metrics into your supply chain operations? To answer all of these questions, companies should start by taking a good look at their operations, and those of their partners'. This is why Environmental, Social, and Governance (ESG) Reporting was introduced − to communicate the performance and progress of businesses' impacts on the communities in which they operate.
TNT: How can companies gain a better understanding of their internal and external partners' commitment to sustainability?
IETP: Ask about their objectives and policies in key environmental areas. For example, do your partners collect data on water usage? What do they do with wastewater? If they have heavy machinery and large production operations, check if they have a sufficient noise pollution management system in place. Permits and certificates are great indicators that they comply with local laws and regulations in this area. 
Assessing your global supply chain by collecting a range of statistics and metrics can help companies understand meaningful trends and actionable items.
TNT: For those just starting their ESG reporting journey, where should they begin?
IETP: Gathering data across your global supply chain can sound like an overwhelming task. To maximize the resources available, why not learn from industry experts, including retailers like Walmart and Target or fellow toy manufacturers like Mattel, that have established reporting processes to reference? Look at the specific areas they ask their business partners to report on and use them as references to model your ESG reporting on. These business leaders began their environmental assessment journey years ago, learning to invest in resources in the appropriate focus areas, and leading on what and how to include them in their ESG reporting.
Get started by collecting the most relevant data, and look to business leaders in your field for best practices.
TNT: What are the benefits of using an online questionnaire for staying on top of your environmental reporting?
IETP: As your company evolves, so do the needs of your environmental reporting. To help you collect information quickly, and at scale, an online assessment questionnaire will save you time and effort, and can also reduce cost if the assessment can be used as a stand-alone reporting method or even integrated into other environmental initiatives.
Invest wisely by embedding flexibility for enhancement and greater deployment early on.  
TNT: What kinds of resources does IETP have available to the toy industry?
IETP: We've seen a demand to provide an aligned and scalable environmental questionnaire for the toy community. Companies want a one-stop service provider for social and environmental data gathering, support in getting it right, and expertise in responding to challenges. This led us to create an online Environmental Assessment Module with the support of a dedicated group of responsible sourcing experts representing all parts of the global toy industry.
IETP is dedicated to leveraging our technology platform to help businesses collect a uniform set of data that can be used by any company for internal and external reporting, at scale and at a low cost. We also encourage companies to learn about our non-category-specific Environmental and Social assessments here. 
IETP enjoyed our chat with The Toy Association! Click here to learn how IETP's program & services can help you prepare and improve your supply chain sustainability, as well as gather global data for ESG reporting.