Webinar: Introduction to Child Rights and Business in Supply Chains
An introduction to Child Rights from a business perspective and their relevance to supply chains and responsible sourcing.
In this webinar, the Ethical Toy Program, Save the Children and the Centre for Child Rights and Corporate Social Responsibility (CCR CSR) explore child rights and business.
We outline the relevant child rights issues which companies should be aware of within their supply chains, and also share best practices and case studies showing practical actions which factories are taking to both promote family-friendly workspaces and advance child rights as well as presenting the latest research on the impacts of COVID-19 for children.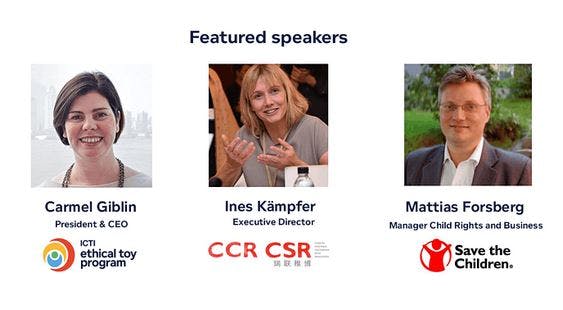 Attendees will learn:
What are your responsibilities and opportunities for child rights and business
The impacts COVID-19 is having on children
Programs in supply chains to support children and their parents/caregivers
Practical ways your company can have a positive impact on children now
The event has completed, please visit our webinar page to watch the recording.