IETP x 路透社:Reuters NEXT 在线会议
整个会议将以英语进行,详情如下:
A New Vision For A Better Tomorrow
From confronting climate change to the future of the office, the finance revolution to combating racial and global inequality, 2022 will be a defining year. Key decisions on the way we live, work, travel and bank will shape a generation.
Reuters NEXT, brings together world leaders, big business, and change-makers to tackle humanity's greatest challenges together.
Built around five key pillars and featuring a diverse range of 150+ voices from around the world. Each handpicked by a Reuters journalist because of their unique perspective on the biggest global decisions that need to be taken in 2022. This December, it is your chance to be a part of the world's largest movement to create a new vision for a better tomorrow.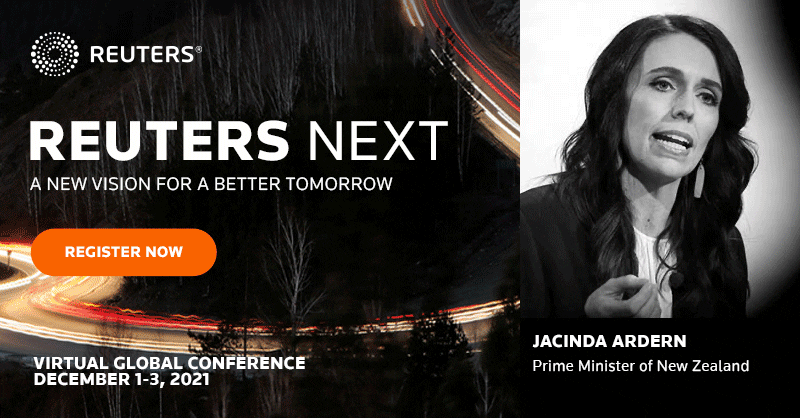 Global Leaders and Forward Thinkers at Reuters NEXT:
Antony J. Blinken, Secretary of State, United States
Jacinda Ardern, Prime Minister, New Zealand
Jacek Olczak, Chief Executive Officer, Philip Morris International
Piyush Gupta, Chief Executive Officer, DBS Group
Ugur Sahin, Chief Executive Officer, BioNTech
Kristen Siemen, Chief Sustainability Officer, General Motors
Claim your free ticket now!
Your Free Ticket includes:
Access to 3 days of live presentations, fireside chats & breaking news
Catch up with the best sessions on-demand
Make your voice heard through live Q&As
U.S. Secretary of the Treasury Janet Yellen, musician Nile Rodgers & founder of Hipgnosis Songs Fund Merck Mercuriadis join world leaders for Reuters NEXT agenda
The United States Secretary of the Treasury Janet Yellen, multiple award winning musician and co-founder of CHIC Nile Rodgers, and CEO and founder of Hipgnosis Songs Fund Merck Mercuriadis were today announced as the latest headline speakers at Reuters NEXT.
They join an impressive line-up of more than 150 world leaders on December 1-3, including the U.S. Secretary of State Antony Blinken, New Zealand Prime Minister Jacinda Ardern and European Central Bank President Christine Lagarde.
The line-up also includes:
·       Ngozi Okonjo-Iweala, Director General, World Trade Organization
·       Jens Stoltenberg, Secretary General, NATO
·       Elvira Nabiullina, Chairwoman, Central Bank of Russia
·       Christine Lagarde, President, European Central Bank
·       Sheikh Ahmed bin Saeed Al Maktoum, Chief Executive Officer, Emirates
·       Dr. Soumya Swaminathan, Chief Scientist, World Health Organisation
·       Dan Schulman, CEO, Paypal
·       Sebastian Siemiatkowski, CEO, Klarna
·       Anthony Tan, Co-Founder and CEO, Grab
·       Nandan Nilekan, Chairman and Co-founder, Infosys
Following the success of the inaugural Reuters NEXT leadership summit in January, the conference will return on December 1-3 - bringing together big business and forward-thinking pioneers to inspire, drive action and accelerate innovation to tackle humanity's greatest challenges.
The complete agenda has also now been released and is available to view here. Led by Reuters editors, the agenda has been carefully curated to address the most critical global issues of the day - bringing together more than 40,000 professionals from over 150 countries to explore five central pillars:
·       Policy for progress – exploring how policy can work towards progress for the whole of society.
·       Business of growth – discussing how opportunistic businesses are reshaping the way we live, work, travel, and bank.
·       A sustainable future - examining the coordinated private and public-sector effort still required to ensure climate change is central of every company and country's policy making.
·       Radical redesign – debating how the pandemic has accelerated new ways of living and working.
·       A fairer world - how to bridge income, racial and gender gaps in jobs, healthcare, education, media, culture, and information access
Josh London, Head of Reuters Professional and Reuters CMO, said: "Combining a diversity of voices with true global outreach, Reuters NEXT is where new ideas and perspectives can truly flourish. We're excited to bring world leaders and pioneers together again in a space where professional attendees can gain access to exclusive insights, opportunities and innovative solutions to the challenges we face in the year ahead."
Reuters NEXT is developed in collaboration with Reuters award-winning newsroom and will be broadcast live in three different times zones, with all sessions recorded and made available on-demand to attendees shortly after broadcast.
For more information on the event, visit: https://bit.ly/30pBDF4
Ends
Media Contact:
Kayley Rogers
kayley.rogers @ tr.com