IETP Releases 2023 Impact Report On Family-Friendly Spaces in the Ethical Supply Chain
Hong Kong SAR, October 31, 2023: Today, the ICTI Ethical Toy Program releases the impact report for its 2023 Family-Friendly Spaces Program, the multi-beneficial social initiative designed to improve the lives of manufacturing workers while producing measurable business benefits for manufacturing businesses and their partners. The report outlines the impacts and achievements created by the program, in its eighth year of operation.
Highlights from the impact report:
33 factories operated Spaces this summer in Mainland China
1,366 supported by the program in 2023
A total of 5,500 children and 5,600 working parents received childcare support from the program in the last 8 years
96 staff received professional training 
97% of workers said they were happier at work because their children were at a Space
92% of workers said the Space is the reason they stayed working at the factory
8% of workers said they were more efficient at work thanks to the program
94% of factory managers said they will continue to operate the Spaces in 2024
75% of factory managers said it had helped them improve their overall labour standards compliance
Spotlight on on factory participating since 2016 who report consistent reductions in turnover and work place injuries since joining

 About the Family-Friendly Spaces (FFS) Program:
The program was initially created to support the "left-behind children" in Mainland China, a phenomenon which continues to evolve as domestic migrant parent workers have now begun to relocate their children to the towns they work in, creating different kinds of childcare needs
Companies are inspired with tools to improve employee wellbeing and find solutions to ease operational challenges within the supply chain
All participating manufacturing businesses (factories) transform areas of their premises into safe, colourful, and fun activity spaces for the children
2024 will be our 9th year of Family-Friendly Spaces (FFS) operation, so far, the program has benefitted 5,500 children and 5,600 working parents. We will expand the scale and scope of the program next year with plans to open spaces in Vietnam, and soon after Mexico. This will help us achieve our global goal of benefitting at least 30,000 children by the end of 2025.
To date, we have implemented 52 spaces and are over halfway to meeting our goal of establishing 100 Family-Friendly Spaces by 2025.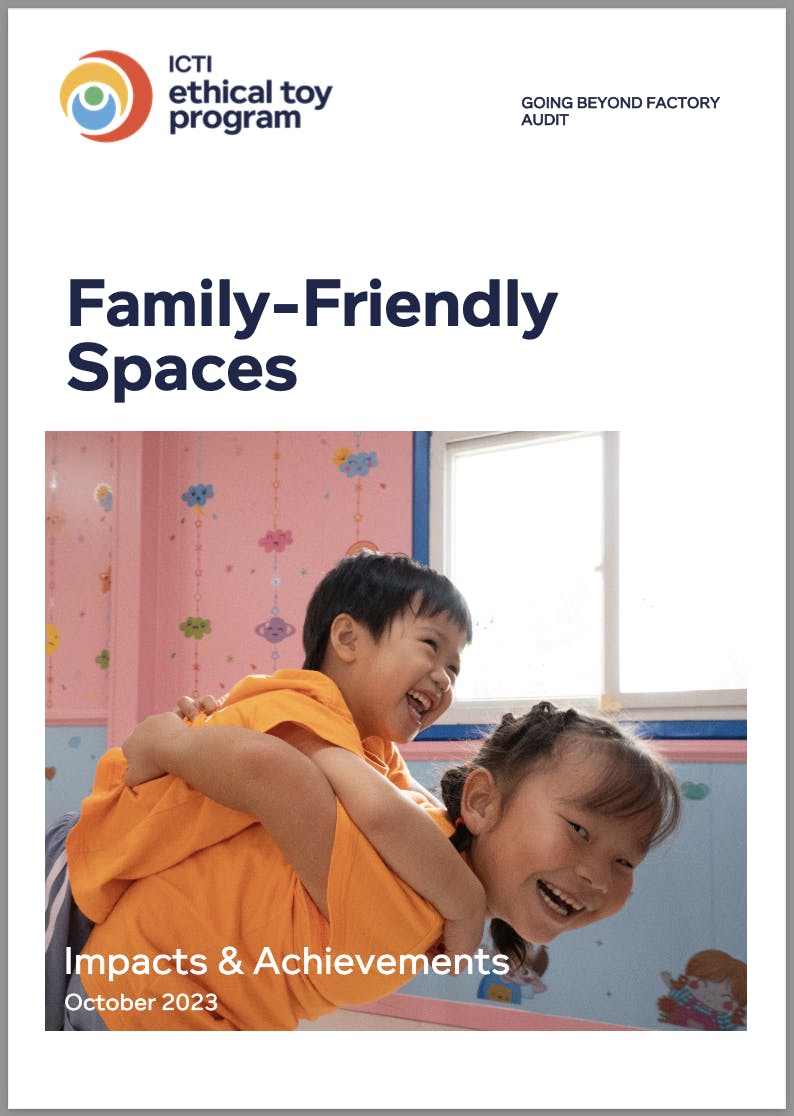 About the Family-Friendly Factory (FFF) Program:
The Family-Friendly Factory program establishes family-friendly policies in the workplace, creating a working environment
and culture that really supports working parents and caregivers. The factories in the Family-Friendly Factory program have policies and facilities including: childcare (Family-Friendly Spaces) breastfeeding support, flexible working hours, and increased parental leave. Engaging the workforce to understand and deliver on their needs where possible.
Our Family-Friendly Spaces, After-School Centers, Migrant Parent Training, Gender Equality & Women's Empowerment programs are all elements of the Family- Friendly Factory program. We commit to continuing to support workers, working parents, and their children in a variety of different ways, entirely tailored to meet their needs.
We are globalising the Family-Friendly Factory Program to meet demand for this program in other geographies. We have already completed needs assessments in Vietnam and Mexico, and other geographies will be entered on a need-and-demand basis.
About ICTI Ethical Toy Program
The ICTI Ethical Toy Program (IETP) is the specialist responsible sourcing program for the industry, we go beyond compliance audits to provide assurance, eliminate sustainability risks, and offer social impact investment opportunities in the global supply chain. Our cost-effective, efficient, and scalable solutions support businesses to power start or enhance their ESG journey with confidence. For more, please visit www.ethical.toys
Contact: news@ethicaltoyprogram.org