World Day Against Child Labour 2016
Áine McCarthy, Assistant Manager, Marketing and Communications, ICTI Ethical Toy Program
The focus of this years ILO World Day Against Child Labour is on child labour and supply chains.

According to the World Report on Child Labour 2015 by ILO, there are 168 million children in child labour today, almost 1 in 10 children. Of these 168 million, more than 85 million are in hazardous work. The issue of child labour is not confined to specific sectors or geographic regions, all supply chains, from manufacturing in Asia to cocoa production Africa, run the risk that child labour may be present. However, the largest concentration of child labour is found in Asia and the Pacific, with almost 78 million.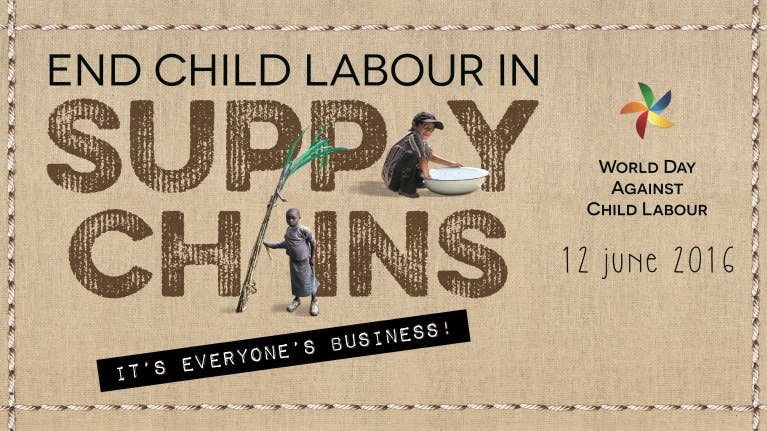 Despite the number of children in work dropping by a third since 2000 – when there were 246 million children in work, of which 171 million were in hazardous work – there is still a long way to go. Child labour is an endemic problem which goes beyond exploitation, the problem is rooted in poverty, lack of economic opportunities and lack of access to education.

Ending child labour in all its forms by 2025 is part of goal 8 of the Sustainable Development Goals.

A child's place is at school, not on a production line, and businesses play a key role in working towards a world free of child labour. Yet as international supply chains are becoming more complex than ever before, it becomes increasingly difficult for businesses to monitor their multi-tiered production and to eradicate child labour when it occurs.

For this reason, a robust supply chain monitoring program is essential for businesses to monitor and manage their production sites across the world. Toy brands and retailers use the ICTI Ethical Toy Program, the ethical manufacturing program for the toy industry, to address the risk of child labour in their supply chains. The ICTI Ethical Toy Program's Code of Conduct has a zero tolerance approach to child labour.

ICTI Ethical Toy Program recommends the following five essential steps to ensure your supply chain is child labor free:
1) Supply Chain Mapping – A critical first step to drive transparency, so you know who your suppliers are. It also supports the evaluation of risk. 
2) Initial Risk Assessment – This can be achieved using initial site profile information, accessible via ICTI Ethical Toy Program's Connect Platform, an online responsible sourcing platform, and collected when a factory registers and starts the process of obtaining the ICTI Ethical Toy Program Seal. 

3) Auditing – Using the ICTI Ethical Toy Program Audit methodology, factories to check for compliance with legal and ICTI Ethical Toy Program's standards which cover underage and child labour issues.

4) Manage non-compliances – Factories are immediately removed from the ICTI Ethical Toy Program if they are found to have child labour. Corrective actions plans should be created to ensure the factory has adequate policies and practices to prevent the future use of underage labour.   

5) Engagement and capability building – Engage with factories to increase awareness and understanding of child labour risks in your supply chain. Use training and support, available via ICTI Ethical Toy Program, to raise awareness of, and capability to tackle, child labour within buying teams at brand level and management at the factory level.
Businesses have a key role to play in the eradication of child labour once and for all and toy brands and retailers can start today with the ICTI Ethical Toy Program.