Promoting worker well-being
Our well-being programs support thousands of workers employed at toy factories around the world. Find out how your company can get involved. 
Left-Behind Children in China
In China, millions of children are growing up in the countryside whilst their parents migrate domestically to find work many miles away in the big cities. This affects millions of domestic migrant factory workers who have to live apart from their children and may only see them once a year.
Our Left-Behind Children program is piloting Family-Friendly Spaces and Migrant Parents Training Workshops to support domestic migrant workers with left-behind children in China. Read more about our work in the Guardian.
Family-Friendly Spaces
Family-Friendly Spaces reunite domestic migrant workers with their left-behind children by creating safe, secure and well-equipped spaces at factories for children to learn and play while their parents work.
"When my daughter first came, the teachers said she was the most timid girl. Now after Family-Friendly Spaces, she even greets people she's never met before" – Zhang Quan, a father worker from Yunnan

Staff at Family-Friendly Spaces are trained to run fun and educational activities for children during the day and allow parent workers to spend time with their children.
Since we launched Family-Friendly Spaces at toy factories, over 500 workers and 500 children have participated.
In 2017, the spaces received a 99% satisfaction rate among participating workers.

"Now I don't have to worry about my little son not recognizing me when I go back home for Spring Festival." – Yang Dongmei, a 26-year-old worker from Southern China
"Without any hesitation, I will bring them to the FFS again if our factory opens it next year. Last year when they came here, they spent most of the summer time in our rented house by themselves, watching TV, playing with toys, and doing their homework. They were very bored. We are also worried about leaving them alone at home. The gas tank and electrical devices are very dangerous. Locking them in is not a good solution, but we had no choice. Now they can stay at the center, do homework and take part in activities under the teacher's supervision. After spending quality time together, we've developed a strong bond with each other!" – Ms. Chen Cuicui, 35 years old, line manager of production department from Sun Wing Ming factory. Her two sons, aged 8 and 10, live with their grandparents in Guangxi.

Migrant Parent Training
Our Migrant Parents Training Program helps workers build stronger relationships with their left-behind children.
The training workshops provide practical tools to lessen the burden of workers' separation from their children, focussed on the following:
Helping parents come to terms with the separation from their children.
Educating parents on how to provide support for their children and how to handle conflict remotely.
Giving practical guidance on communications skills supplemented with tools and activities to strengthen the parent-child bond.
Impacts of Migrant Parent Training – Before and After:
"I feel guilty for being away from my children" – participating worker before Migrant Parent Training
"I believe I can educate my children well even when they are not with me" – participating worker after Migrant Parent Training
Participating factories (2016-2018)
Thank you to our program sponsors
IETP thanks LEGO, TÜV Rhineland and Target for their generous sponsorship of our 2018 Left Behind Children Program, and also wishes to thank Hallmark, Crayola, LEGO and Mattel for their generous donation of gifts to children participating in the Family-Friendly Spaces program.
How you can support the programs
Our booklet 'Supporting Migrant Workers with Left-Behind Children in China' outlines how our worker well-being program can support parent workers at your factories and how toy companies can participate.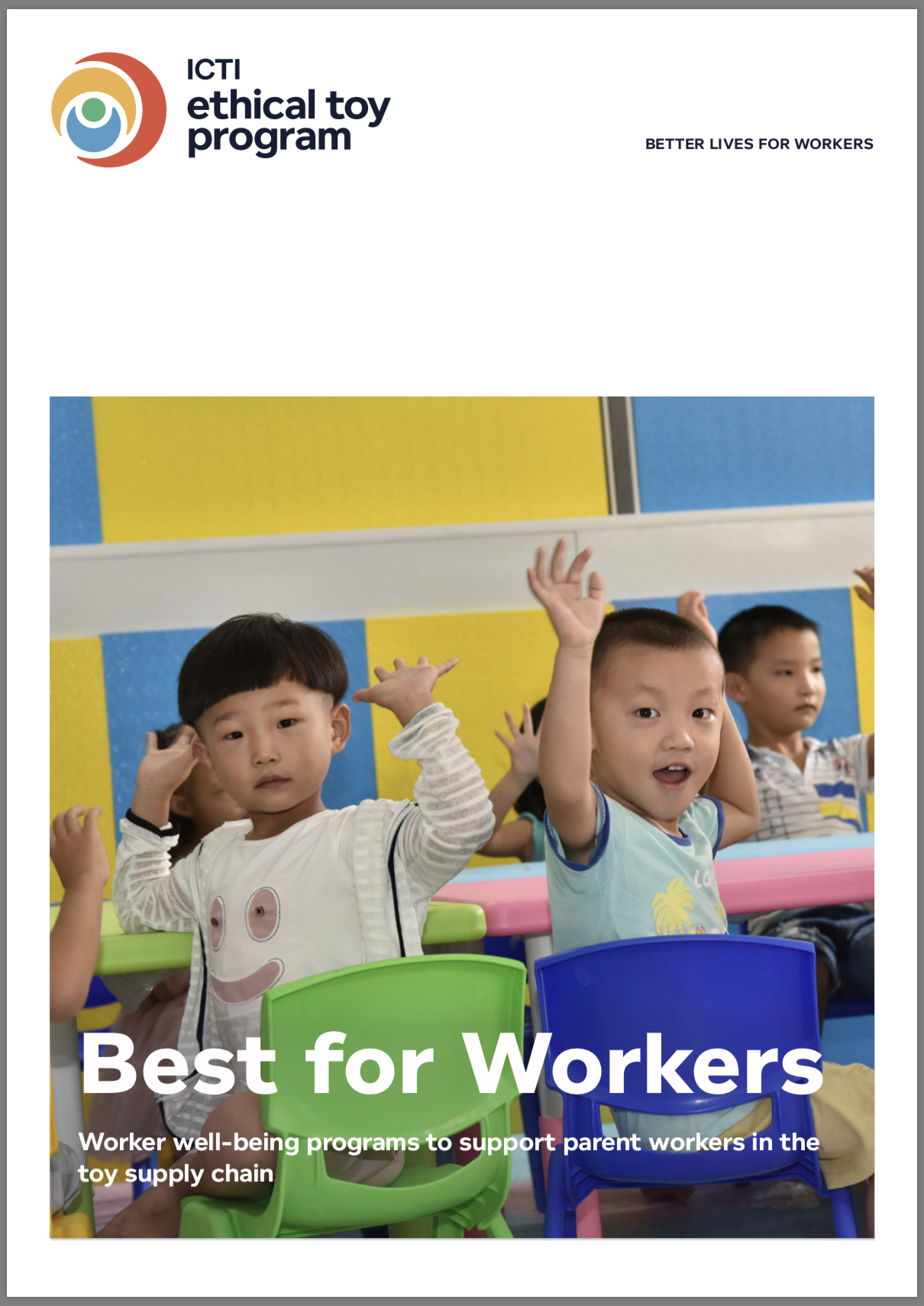 Child care in Vietnam
The Ethical Toy Program has collaborated with Children's Rights and Business project led by Save the Children Vietnam, the Center for Child Rights and Corporate Social Responsibility (CCR CSR) and ISMS, on factory assessment study to identify challenges affecting parent workers and children's rights in the supply chain in Vietnam. Vietnam is an emerging center for toy production; the country is home to the largest community of Ethical Toy Program certified factories outside of China.
It is not common for workers in Vietnam to live in factory dormitories, our study found that 84% of workers currently live with their children. However, workers in Vietnam still expressed concerns around childcare challenges.
The Ethical Toy Program is exploring opportunities to strengthen childcare options at toy factories in Vietnam.
Women's Empowerment in India
The Ethical Toy Program is partnering BSR to advance women's empowerment at toy factories in India – a growing centre for toy manufacture.
This program is identifying opportunities to further strengthen the Ethical Toy Program Certification to empower women, to design and implement women's empowerment strategies, and to support toy factories in India to foster deeper change in the country.
From preserving women's health rights to protecting against harassment, ensuring equal pay to promoting professional advancement, learnings from our in-factory work in India will be applied across the wider Ethical Toy Program as part of our work beyond audit to build capability and empower workers.
Contact mark.robertson@ethicaltoyprogram.org to learn more about the BSR Ethical Toy Program women's empowerment projects in India.